Kevin Richardson is all but ordinary with his unique career in wildlife conservation and filmmaking. His highly praised work within this field has made it possible for him to create his own lion sanctuary. At this sanctuary he can conduct hands on work with these majestic animals and continue to expand his knowledge and understanding of the species. He is recognized by his persona as the "Lion Whisperer". Through this persona and his work in the filmmaking and conservation industries, he works to highlight Africa's most iconic predator, the lion. Before we talk about what he does for these amazing animals and how he works alongside world-renowned scientists, campaigners, and researchers, let's dive into his background and see just how he got to where he is today.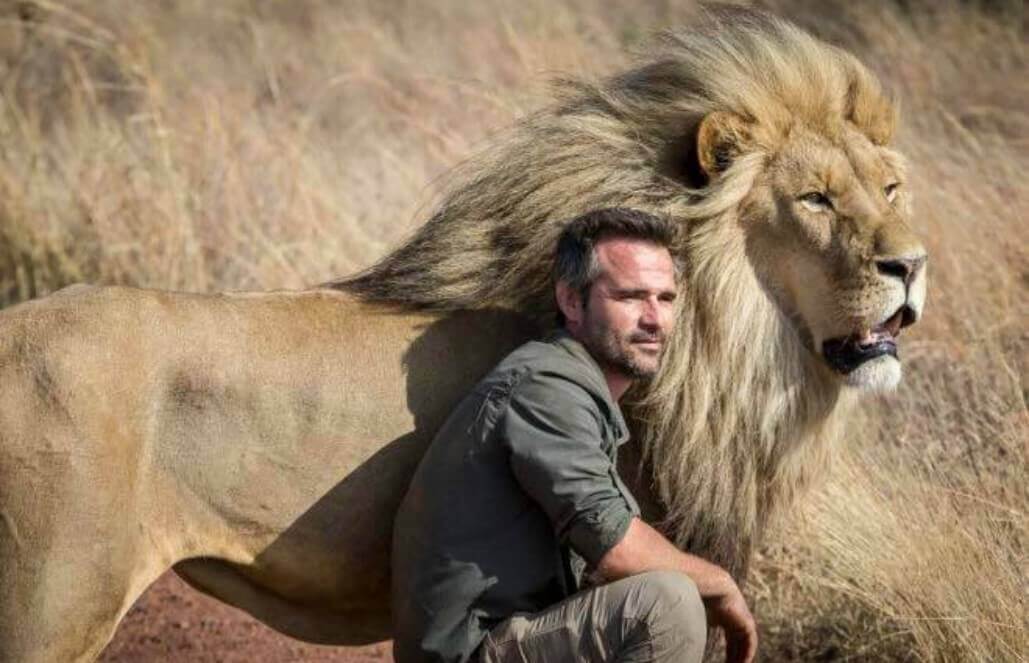 Kevin was born in Johannesburg, South Africa, on October 8 of 1974. He spent his childhood in South Africa in the neighborhood of Orange Grove. He is the youngest of four children. His mother was also born in South Africa and lived a modest life, working in a bank. From a very young age, it was apparent he had a gift for interacting with all sorts of animals. As he grew up his affection for animals also grew. By the time he was just three years old, he was already breeding crickets and had a toad as a pet. He even named the toad, "Paddatjie" which means little frog. This small act at a young age begins to embody his connection with both animals and his homeland of South Africa. At three years old he was already practicing animal care when his father helped him rear an injured baby bird that had fallen out of its nest. He soon took on the task of helping rear and care for all sorts of different birds around his neighborhood. The neighbors quickly recognized his talents and began to call him, "The Bird Boy of Orange Grove".
He was just sixteen years old when he was introduced to the world of zoology by Stan Schmidt. After two years of university courses in zoology, he changed his course path and started taking classes in marine biology. This also ended unsuccessfully. It seems during this time that he would never live up to his now infamous name the "lion whisperer", but this is just the start of his journey that has led him to living up this name. At this point in time, Richardson was deterred by his failures and lost sight of his hopes and dreams of having a career working with animals. He then started a career in physiotherapy while working with various animals at a local Lion Park in his free time.
Through his work at the Lion Park, he became acquainted with the Lion Park owner Rodney Fuhr. His friendship with the owner led to him devoting more time to the captive animals that were being rehabilitated at the center. At the young age of 22, he became the star wrangler at the center. He was also a big hit among the audience. When he turned 23 he was offered a unique opportunity to work with and care for two, six-month-old lion cubs named "Tau" and "Napolean". According to Richardson, this single opportunity sparked his "entry into the world of lions". He spent lots of time with these cubs and developed a strong bond. The cubs eventually grew up and were shifted out of the Lion Park, but Richardson took note of something important within this shift. He realized that as soon as the cubs were no longer able to fulfill their cub duties of being adorable and cute, they disappeared. Some went to breeding farms, others were sold to the hunting industry, and the rest just seemed to have disappeared. Only then did Richardson realize the true plight of the captive lions.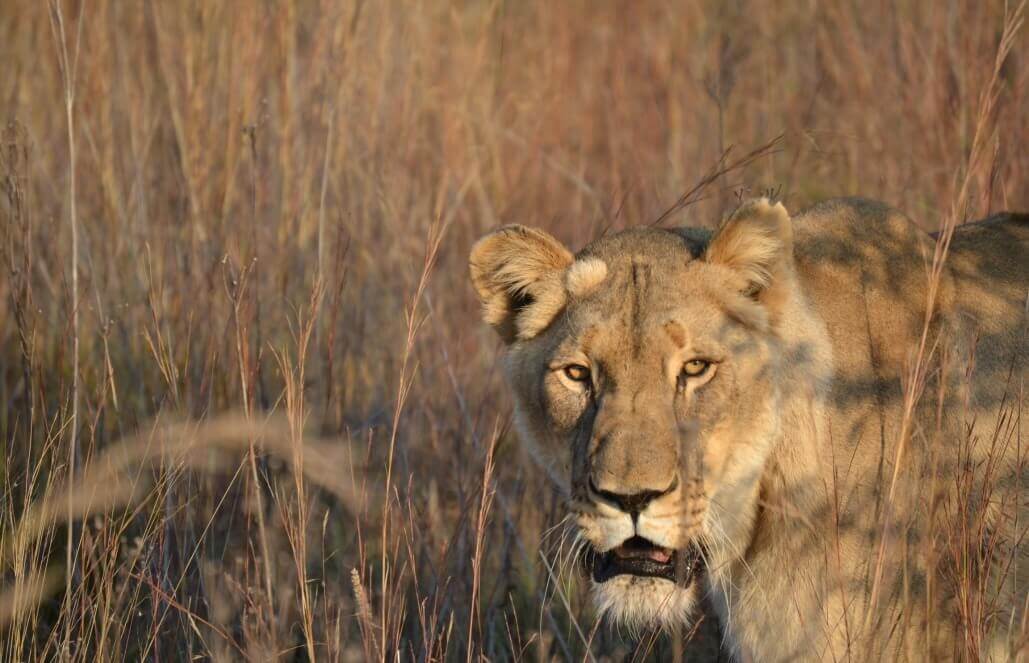 This prompted Richarson to move away from his work at the Lion Park. At this time, he had intentions of getting a large conservation sanctuary on his own, which would allow the lions at the sanctuary to roam free from cages and bars. He wanted to ensure the safety and livelihood of these creatures he had become so fond of. With the help of Rodney Fuhr, the owner of the Lion Park, Richardson previously managed a special facility called the "Kingdom of the White Lion" in Broederstroom, which is an 800 hectors park. Here at this 800-hector park was the setting for the movie, White Lion. At this park, he cared for more than 26 lions, numerous hyenas, leopards, and various other indigenous animals. It was amazing that he could care for so many of these animals with as little help as he had.
Years later in 2013 he finally was able to come up with enough money to establish "The Kevin Richardson Wildlife Sanctuary" in Weldgedacht Game Reserve, South Africa. The sanctuary serves as a home to many of the animals brought over from the Lion Park and is located on a privately owned 1,200 hector plot of rolling grassland. This land not only gave him the opportunity to watch over these beloved animals in his own unique manner, but also the ability to spend countless hours with them in the freedom of his own property where there were no bars to restrict their interactions.
His unique relationship with these magnificent animals has opened many doors and captivated the imagination of many people throughout the world. People can enjoy all that he has discovered about the animals through his several documentaries that highlight the plight of the lions both in captivity and free to roam in the wild. Richardson also wrote a book named about his adventures and relationships with these large carnivores. The book is named "Part of the Pride" which also includes his updated viewpoints on lion breeding, hunting, and the new threats the lion species are facing.
His documentaries include "Lions on The Move", "Killer IQ: Lion vs Hyena 2014", and "Wildcats 3D". "Lions on the Move took place in 2012 through 2013 and explores Richardson's extraordinary bond with Africa's most fearsome predators. The film covers all of the adventures he goes on with including the movement of 23 lions and 14 hyenas to a new home. The goal was to move the lions to a sanctuary on the edge of Dinokeng a South African Game Reserve spanning 18,500 hectares. The movie entails his efforts to strategize a plan, obtain the moving permits, and actually move these animals to their new haven.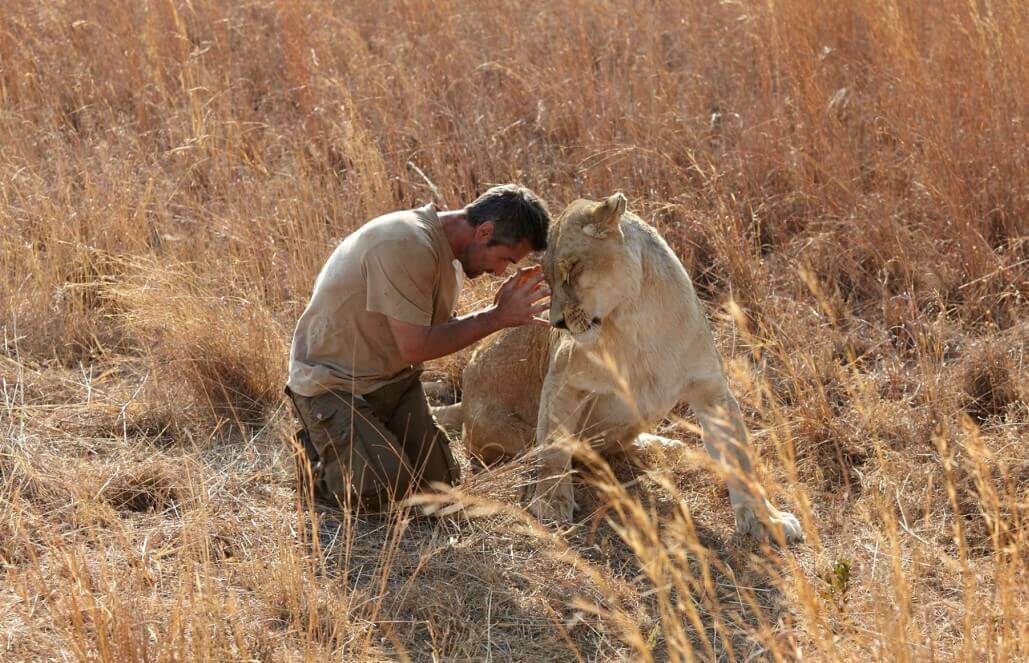 The latest documentary of Richarson is dubbed "Killer IQ: Lion vs Hyena" and details the war of wits amongst the Lion and Hyena battles. Richardson is joined by some of the world's leading behavioral zoologists as they explore the versatile relationship of lions and hyenas. The lions and hyenas are pitted against each other in a series of exciting, entertaining and groundbreaking puzzles and trials, to discover what makes them the ultimate apex predator. The various trials will focus on the unique abilities and aspects of the animal's behavior.
Kevin Richardson has done some truly amazing work with lions and this work continues today on his wildlife sanctuary in South Africa. The focus of this sanctuary remains not only on lions but also on other carnivores native to the land. His mission is to raise public awareness of the danger these animals face through tactics like education, social media, and tourism. The sanctuary is in a perfect location to expose visitors and locals to the natural biodiversity of the land and the current plight of the lions. As the individuals that visit this sanctuary learn and explore these concepts, they can then understand how they can make a difference in the natural biodiversity of the land and plight of the lions.
Visitors can help Richardson in his efforts by maintaining and sustaining the land he has worked so hard to obtain. Devoting time to this project will also enable him to build more enclosures and enrichment facilities for the animals that are not free-roaming to ensure that they have the best possible environment. The work to maintain and continue to build on the sanctuary is endless. Tasks that Richardson is faced with on a normal basis include: road and river crossing maintenance to allow continued access to all areas of the reserve, removal of invasive plant species, the creation and maintenance of fire breaks, general cleaning and maintenance of the farm, predator enclosures, water holes, and volunteer camp, bush cutting, construction of new fences, removal of old cattle fencing to create an open area and fence checks and repairs, cleaning predator enclosures and filling water holes, preparing, cutting and feeding meat to adult animals and pellets/milk for younger animals. Not only do all of these physically demanding tasks need to get done around the sanctuary, but Richardson is also working to keep up with his career in the filming industry.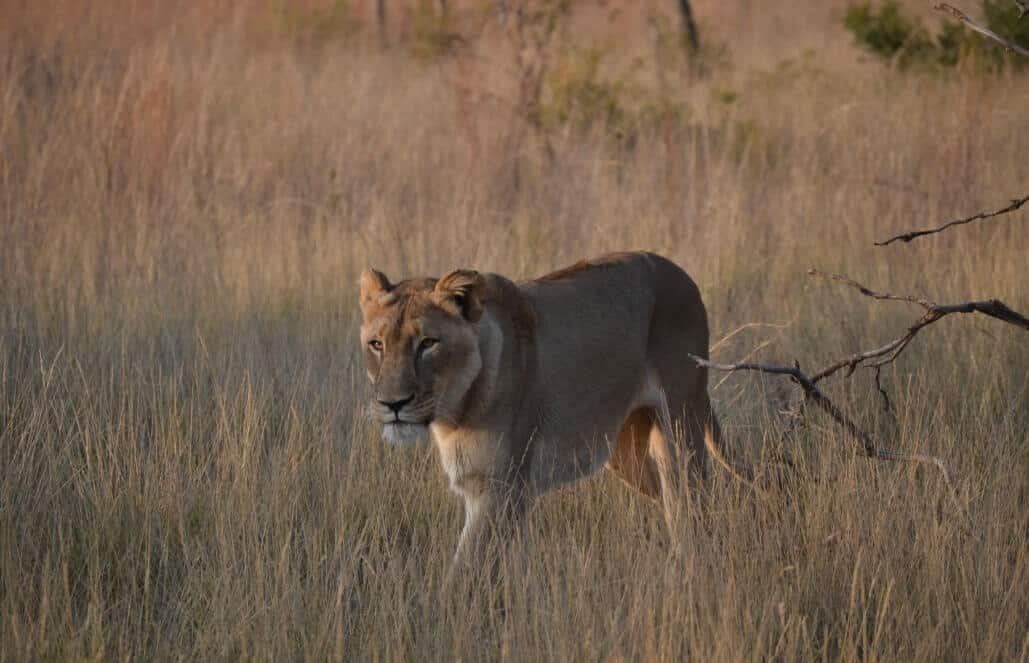 There is still so much work to be done to preserve and protect the effervescent ecological systems and lion species in South Africa and there is no better way to explore and learn about this than with a world-renowned wildlife conservationist on his own sanctuary. It is clear that this sanctuary and the work of Richardson has been a vital source of our current knowledge of the lion species and other carnivores in the area. The hope is that with the help of volunteers and collaboration among leading scientists and researchers his work can continue to expand offering more insight into these amazing creatures and the natural biodiversity of South Africa.
If you think his work is amazing as we do, then do not pass up the opportunity to get directly involved at the sanctuary with Kevin Richardson himself. At his sanctuary volunteers will be an integral part of the daily operations to keep the facility running. Here the participants can help Kevin continue to achieve his aspirations working with this amazing beasts. Not only will volunteers see these animals up close and personal but they can also familiarize themselves with the area of Gauteng Province South Africa. While this all seems surreal there is still more incentives to come like socializing with the locals as they learn through the work at the sanctuary about the local biodiversity and wildlife. Take the adventure of a lifetime to South Africa and meet a true lion whisperer along the way.